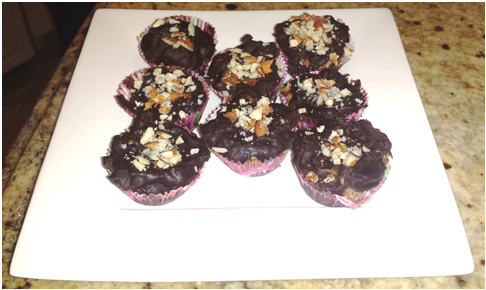 Vegan Gluten Free Almond Butter Granola Cups
Ingredients:
Vegan Chocolate Chips – 1 cup
Almond Butter – 1 cup
Gluten Free Granola – 1 cup
Almonds – chopped for topping
Maple Syrup – 2 tsp.
Coconut Sugar – 2 tsp – optional
Coconut Milk – 1/4 cup
Heat almond butter, maple syrup, granola, and coconut sugar in a pan until combined.  Mix chocolate and coconut milk together until melted.  Spoon a small amount of chocolate in the paper cupcake cups.  Add the almond butter mixture and then spoon more chocolate on top of the mixture.  Sprinkle chopped almonds and cover with plastic wrap.  Refrigerate to harden.
Enjoy!!!
Copyright © 2020 Gemma.com - All Rights Reserved.